Building a Strong Foundation for CCP Implementation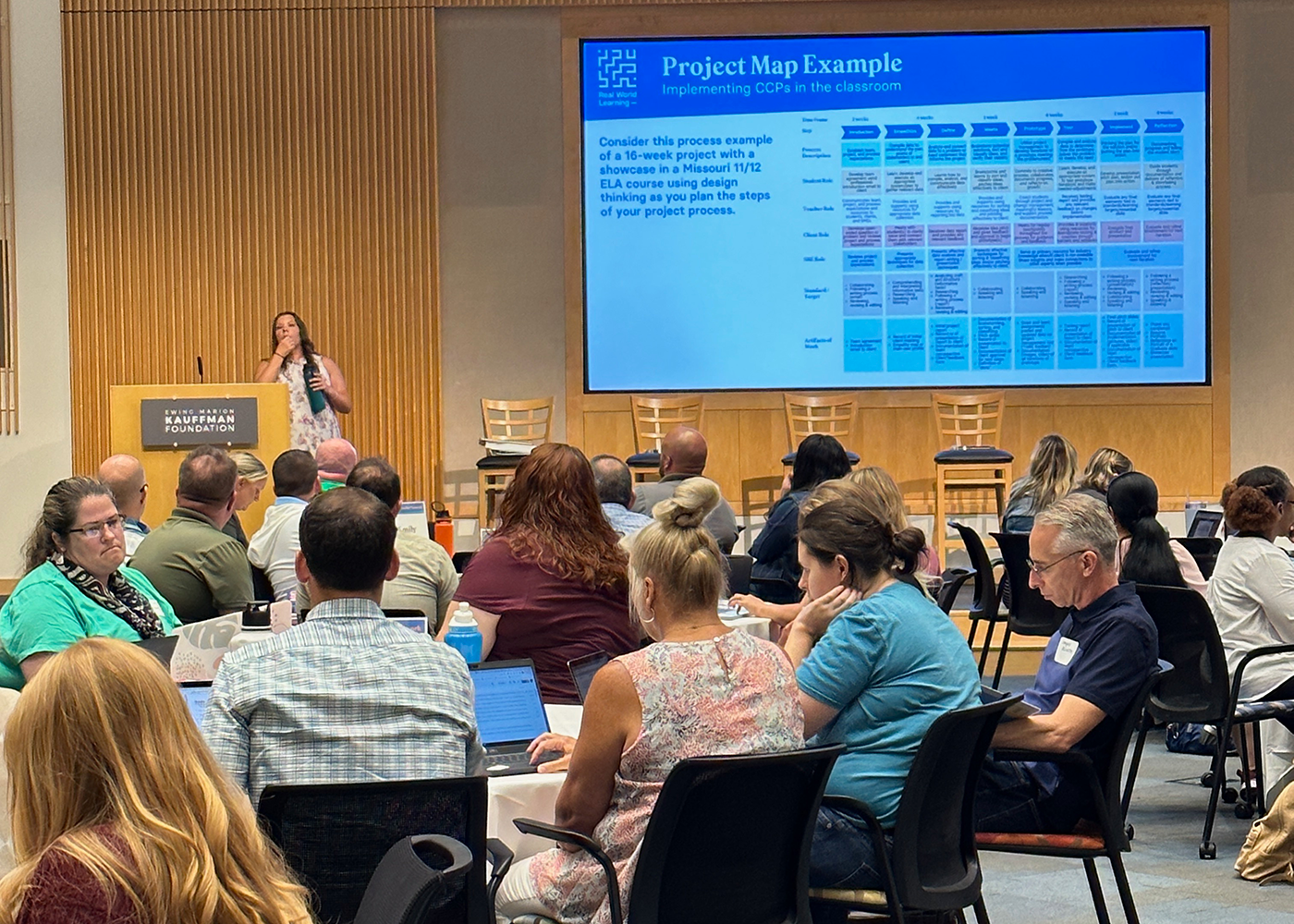 When implementing client-connected projects (CCPs), there is no one-size-fits-all. Combining student learning, teaching styles, and partner relationships creates a unique experience each time. Teachers need to identify learning targets, create new learning assessments, and, perhaps the most difficult, relinquish some classroom control to students and client partners.
However, the outgrowths for the student far outweigh the challenges. Time and time again, we hear from students how CCPs have built their confidence, communication, and problem-solving skills and, perhaps most importantly, have reengaged them in their learning.
The Real World Learning Team used the summer to create more robust peer networks among teachers, school counselors, instructional coaches, and RWL coordinators to increase the number of CCPs offered.
The CCP Teacher Network
Sarah Renfrow and Jake Wingo from Raymore-Peculiar School District have been a powerful teacher-RWL coordinator duo from the beginning – starting with implementing CCPs in English 4 capstone projects and taking their learnings to help launch Ray-Pec's LEAD Center microschool in 2021. Renfrow, an English teacher who is now based at the LEAD Center, has seen great success by forging partnerships within and outside of her district.
So, this summer Renfrow and her fellow LEAD teacher, Stefani Russ, worked with the RWL Team to take a peer learning approach to design a 3-day educator workshop on effectively implementing CCPs in core and elective classrooms. Leveraging past PD training like the RWL Student Voice pilot and Design Thinking with Startland, the two developed a learning journey for teachers that includes practical implementation steps and collaboration with other district staff, like school counselors, instructional coaches, and RWL coordinators.
Expanding Peer Connections
The multiple convenings over the summer focused on forging stronger connections between educators from other districts and collaborating internally between different roles for MVA achievement.
Counselors, coaches, and coordinators participated in parallel networking and workshopping to consider challenges around personalized student learning journeys, curriculum alignment, and employer engagement.
The RWL team recruited and hired 12 additional CCP Master Teachers to provide valuable feedback on the PD design of the workshop and to give coaching to a cohort of 10 to 15 teachers. These Master Teachers submitted applications that illustrated both their successes in implementing CCPs and their leadership in classroom innovation around real-world learning.
See the complete list of Master Teachers.

Emily Craig – Ray-Pec High School
Tori Deneault – Piper High School
Dr. Jonathan Hart – LSR7 School District
Annie Flurry – Shawnee Mission School District
Michelle Fulton – Fort Osage School District
Zachary Johnson – North Kansas City Schools
Brandi Krahulik – Shawnee Mission School District
Kaitlyn LaFrenz – Kearney School District
Destiny Marsh
Matt Sessler – LSR7 School District
Andrew Smithson – Hickman Mills
Stephanie Wixon – Shawnee Mission School District

Lead Master Teachers
Sarah Renfrow & Stefani Russ – Ray-Pec LEAD Center
---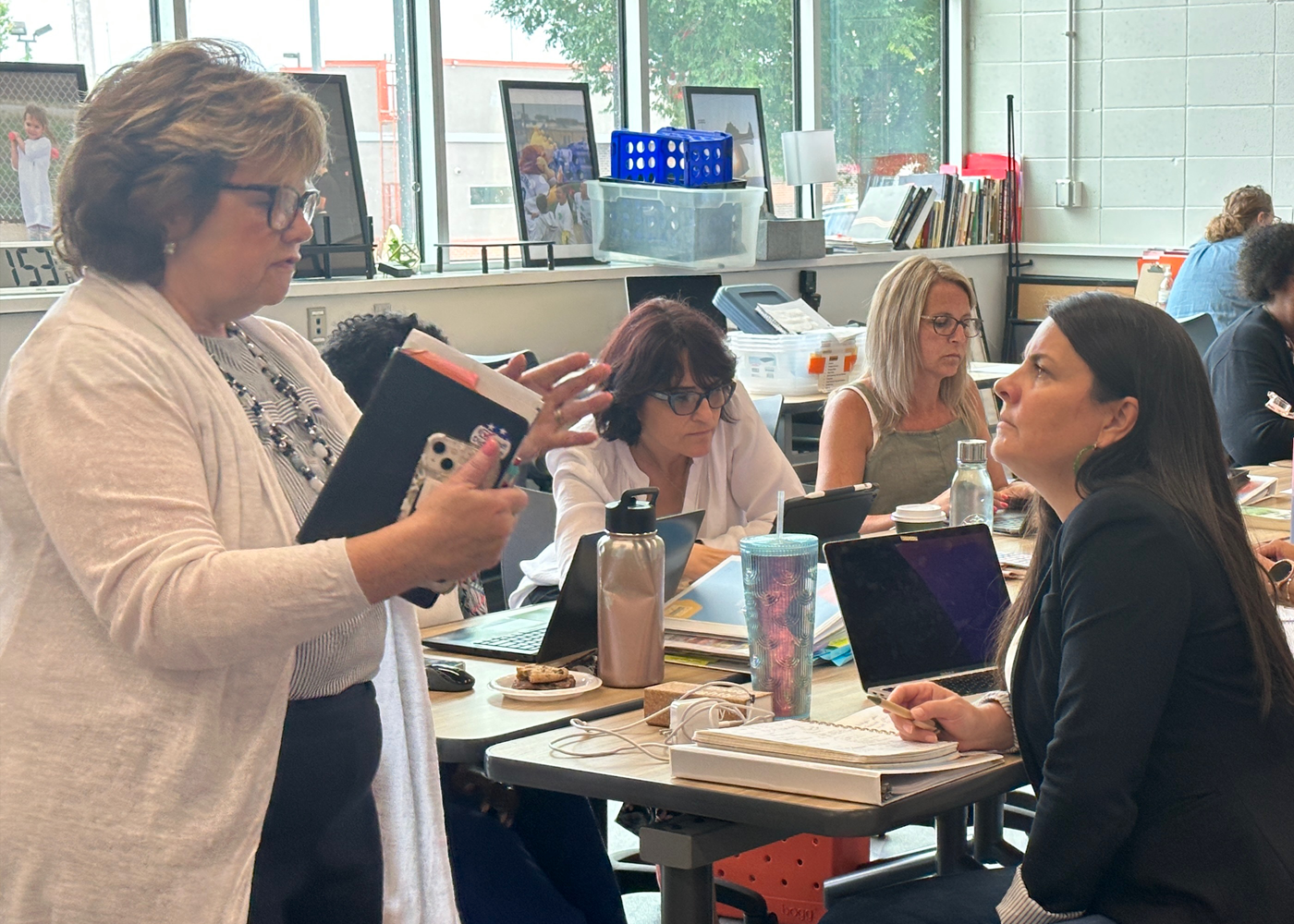 Each cohort was organized by subject area and represented over 30 school districts. Teachers came from various stages of understanding. At the end of the three days of PD, they had designed complete project plans for CCPs, including establishing learning targets and working with their RWL coordinators on employer engagement. They're also part of piloting different engagement platforms that can benefit other teachers who could not attend the workshop.
Some examples include:
A Spanish 2 class will work with a travel agency to create an itinerary and brochure for a trip to Spain connected to Culture and Language: Vacation and Shopping vocabulary.
A Special Education class will identify barriers to inclusivity and accessibility present in the work environment of a local business.
Interior Design 2 students will work with a retirement facility to redesign a public area or private resident space, depending on the client's needs.
What's Next?
This fall, teachers, counselors, coaches, and coordinators will continue to come together to build on the summer learning. Focus areas include change management, student MVA awareness and understanding, and deeper dives into scope and sequence by grade level and subject areas.
Resources: